Finding the best free video editing software for windows professional video editing software free download should be the core of any eCommerce entrepreneur's video success. And using free video software is one of the most convenient way to edit videos.
In addition, most of the software's are very easy to use that they are great for newbie editors. This free video software's are nearly the same as the professional editors use on big budget production.
However, if you are just starting your journey then you should go with the video editors that are easy to use for a beginner, and not the ones that are utilized for professional use.
You need a video editing software if you want to extract audio from a video or add different audio, add subtitles, merge video or fade a video in or out. Most of the video bloggers need an editor of some kind.
As there are so many choices available today, we have created the list of the best video editing software free download full version, also the range and the power available in these free video editing software tools is remarkable.
This Lightworks download is one of the best free video editing software. This tool is available for the majority of platforms, and it works flawlessly. It has great features like professional level colour correction, video capture, real time effects, Multicam support and many more.
This free lightworks video editing software includes also includes the following:
Export to 720p for YouTube.
A wide range of video format supports
High precision video trimming.
This lightworks video editing software has superbly designed timeline allows a high degree of control, so one can mix ad trim together their audio and video clips as per your needs.
You would not be able to master, but light works provides great video tutorials which can make it quicker and easier. This lightworks download is best suited for overall editing.
Available for: Windows, Mac and Linux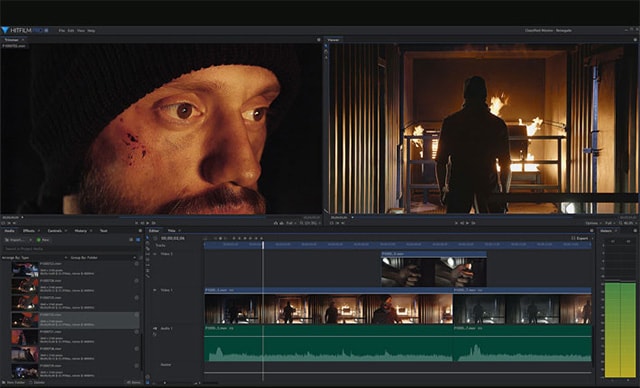 This hitfilm express has much of a trendy approach to video editing, as it promises pro level features for free and delivers it. This completely free video editor is making things easy for the learners who are new to video editing that is easy to utilize as well as simple. It is packed with great features like:
Particle simulation
Colour correction and grading
Audio and video filters
3D video support
Advance cutting tools
It has a solid timeline editor, a lot of playback options that will help you editing videos, and also the best this you can keep on editing even when the export is happening. This software tool is best suited for bloggers and YouTubers.
Available for: Windows and Mac
This is a video editing software free download full version editing tool; this tool is for the ones who want to make their video more artistic with different features within the software.
You can utilize this software for adding 2D and 3D titles to your video. There is also a facial recognition and tracking in this software, thus you can adjust skin tones, eye and lip colour and has an intuitive interface. Its key features include:
Fairlight audio tools
Full suite of collaborative tools
Advance trimming
Colour correction
It has an HDR support, and thus you can work on your raw files directly from your camera. Here for audio this tool uses Fairlight, a suite of high-end editing tools that allows you to mix and master up to 1000 channels.
Available for: Windows, Mac and Linux
The shortcut is fully an open source program. That is after the download, you will get full access to all the features available without any need for a paid upgrade.
For beginners, it has one of the best interfaces, one would find in a video editor, also there are great features available that one can use without any issues. It supports great features like:
Great list of audio-oriented features
Cross-platform support
Great file format support
One can also customize its interface according to their need via the use of dockable and undockable panels. You will load a video but also have to select which editing mode you want along with which tool's you would like to work with. There are many filters and advance special effects that are very easy to apply and manage.
Available for: Windows, Mac and Linux
VSDC is a full featured best professional video editing software tool, but might be a little hard to utilize for the learners. It works in a different way than many other similar tools, as it is a non-linear editor, it lets you position clips and other elements on the timeline so that you can edit them anytime you want.
With this you can create a professional quality video as it has multiple screens and transitions but also you can add sprites and text to the videos. It has key features like:
Smart interface
Non-linear video editing
120fps support
Advanced video features
While working with multiple monitors, it gives you complete flexibility as you can detach the timeline. It also lets you include extra artistic effects, including smoke. This is an excellent choice for creating video projects.
Available for: Windows
Avidemux
This is another one of the also free video editing software no watermark, this is built for the people who are looking for fast and simple way out of video editing and who do not need the advanced features. The interface is very simple for learners. This tool helps to perform basic task like:
Simple cutting
Supports all major video formats
Filtering
Encoding
This software does not require any powerful hardware and can turn on various different devices. This is extremely easy to utilize and free video editing software no watermark.
Available for: Windows, Mac and Linux
The blender video editing software is an open source program and one of the most popular software available. It was designed as a 3D animation suite, but also has very useful video editor features.
It enables you to perform basic actions like video cuts and splicing along with more complex tasks like video masking. This video editing software includes features like:
Live preview, histogram displays and etc.
Enables you to animate and render your own videos
Great list of visual effects that one can use
Speed control, keyframes, filters and more.
This blender video editing software is supported across all major platforms like Linux, Windows, and Mac OS. It is best suited for advance users.
Available for: Windows, Mac and Linux
Videopad video editor it is one of the best editing tools. It supports frequently used file formats, it also supports drag and drop, effects, transitions, 3D video editing, text and caption overlay and more.
With this tool you can change the video speed, can reverse the video, import music, and can also export movies to YouTube. Its features include:
Library of pre-paid transitions
3d video editing
Sound effect library
Export your movies in numerous resolutions
This Videopad video editor is very basic and easy to use, thus any new learners can easily utilize it, as it is the best professional video editing software.
Available for: Windows
Wrapping it up!
Given above is the list of best free video editing software for windows professional video editing software free download for creating stunning videos.
We hope you liked this article, also select the software according to your needs that increase your visibility and also present your brand in a visually appealing way.