The parameters of business have been redefined gradually as social media became an inevitable part of most people's life. Having an online presence on different platforms is not just enough. It is essential to use tools that help you with varied operations.
But the most confusing question is which social media management tools to use for a specific business? WordPress dictionary has hundreds of programs offering varied features that confuse the users.
The fact is that irrespective of the fact that the user is an advanced or a beginner the tools will make them feel overwhelmed. Hence, for this year we have compiled some of the best tools that can be used in most businesses.
There are certain major features that a management tool must have and all the tools below have proved their mettle in this industry. Go specifically through the features of each tool and ensure that it is something that can be used by you or not.

This program is packed with comprehensive features but is simple to use. It has been used widely around the world by developers and administrators. It has all the necessary tools mandatory for the management of socializing handles and also has other unique features.
Features include auto-posting with smart queues, content scheduler, integration of RSS feed, social-inbox, keyword monitoring, suggested content curator, and others.
One can also use facilities like influencer discovery, Canva integration, analytics reporting, campaign tracking, and URL shorteners. The following are some key features that make it one of the best social media management tools.
RSS & Publishing
For publishing content, it has a robust system. The Auto-post with smart queues is one of the most talked-about features. This gives the users the freedom to publish N number of posts in just a few clicks for as many days as required. It can recycle the content after publishing and also remove it from the queue.
It also comes with RSS integration that enables users to automate the blog posts on their profile. Along with the scheduling tool it offers free images, auto-link shortening, visual calendar, automated GIF, and video publishing support.
When a user opts for suggested content it enables the use of categories of keywords to ensure that the content is quickly discovered. This content can also be shared with the audience easily.
Engagement
One can manage all the socialized media interaction and engagement in one place through the social-inbox. Talk about anything posts, tweets, mentions, comments, stories, likes, shares, followers, even Youtube, and advertising comments, it includes everything.
To ensure that you can monitor your brand, start conversations, and interact with followers it offers listening and monitoring features.
By ranking, topic, location, and interaction this program has the ability to search for influencers on Twitter.
Support
Support is extremely crucial when it comes to Social Media Management Tools. This feature is perfect for you if you have multiple clients or own an agency. For each client, this software provides a dedicated workspace. It has a separate inbox, calendar, analytics, and assigned team members.
This helps you keep everything organized and avoid unnecessary confusion. It specifically offers an inbox workflow for teams, a white-label analytics report, and an approval workflow.
Note: The suggested networks for this include Instagram Business, Google My Business, Facebook, Twitter, Google Analytics, LinkedIn, Pinterest, and Instagram.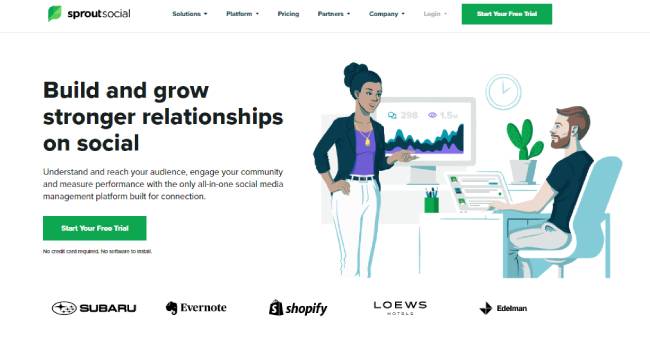 If you have ever used HootSuite then this program is similar to it and combines a variety of features from other tools as well. It includes scheduling, monitoring, analytics, the whole gamut. Let's explore some of the peculiar features that make it amongst the best social media management tools.
When it comes to publishing, Sprout has some really cool features. It covers all the basics required by users and also a few more customized features.
Some of them include agency features such as post-approval and individual statics on each post. Unfortunately, you will not be able to find the queuing or auto-post feature here.
It also has a social-inbox which is great and performs exceptionally well. To ensure that you can monitor your brand on socializing handles it comes with keyword searching and handles monitoring features.
The influencer search feature is missing in the program. When it comes to client management it has all the basic team features required by you. It supports four networks which include Twitter, Facebook, LinkedIn, and Instagram.

This program is a part of the industry for the longest time since its first version released in the year 2008. It includes robust content features and all other applications that you need.
To name some it offers content curation, RSS integration, organization, and scheduling. The following are the core features that it has to offer.
If you want to upload several posts at one time then it comes with the bulk scheduling facility. Recycling the content with auto post will not be possible with this program.
If you want to create a social contest or sweepstakes then it can be created with one of its cool features. Just like other social media management tools it also has RSS integrations.
This software does not have anything called an inbox. For conversations, you must login to each handle separately and manually engage with the follower.
In the section of support for client management, it offers all the basics along with custom branded URLs and post-approval facility. The list of the supported networks for this tool also includes WordPress.

This is a reputed and well-established management platform for socializing handles. It comes with several good features which include engagement, queue, analytics, and team feature. With various handles, it has a wide range of integration. The specialty in terms of functionality is as below.
Basic publishing feature like scheduling and adding a post to the queue is offered by this program. Users might face difficulties in doing so with hundreds of posts at a time because it is not made for it.
Straight away publishing on to the online handles will also be tough. The important thing that you must know is that it does not come integrated with RSS which enables you to publish posts from blogs.
Just like a dedicated inbox in other social media management tools, this program has a product called Reply. It supports comments from Instagram, Twitter, and Facebook.
When it comes to supporting it undoubtedly has the basic requirements. Users can add team members and grant them permission to manage the desired socializing media handles.

This is a one of its kind software which has been built by keeping in mind the requirements of an agency. Just like other popular programs it has various features including a CRM. The functionalities of its key area are as follows.
This program comes with a smart queue feature. This helps users to put their favorites or most liked posts on repeat. The unique part is that it also comes with a smart recommendation system that ensures that top posts are recommended.
It also offers team members and a dedicated inbox features to its users. The tone of specialty that sets it apart from the crowds is the listening option. With this, the user can monitor what is being said about their brand with the help of keywords.
Instead of influencer, it comes with a CRM which enables treating socialized interactions with individuals like creating a lead. The entire conversation history can be viewed at any time and all other information that it has can also be viewed.
It has a white label solution and offers a separate dashboard for each client. Just like other social media management tools, it supports all popular networks.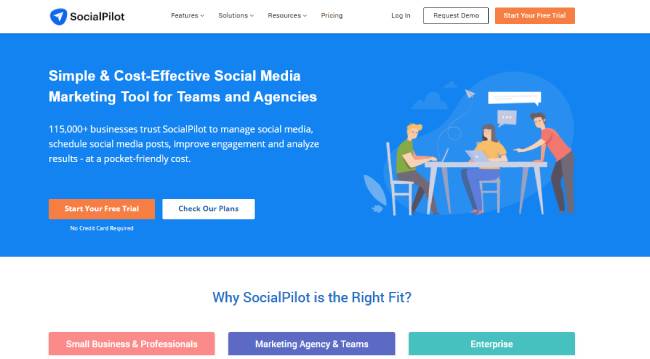 If you are looking for multiple features in a single dashboard then this is the program for you. It has been applauded and appreciated by developers as well as the audience around the globe for its functionalities. Let us explore and discuss the key elements of this program.
All the basic features of scheduling are offered by this software including the bulk scheduling option. It can be considered as a power-packed program because it also offers auto-publishing along with RSS integration.
Focusing on the socializing part the users will not find a common inbox or listening product here. To get ideas it comes with feed where you can conveniently browse at different content. Engaging with enthusiasts or followers will be difficult to task to achieve with this software.
Another peculiar development includes that it allows users to connect clients with the management system without any credentials. Post-approval and individual dashboard for clients is also offered.

The next in the list of effective social media management tools is Agora Pulse. It comes with a variety of useful functionalities including engagement, listening, publishing, reports, and team collaboration.
Queuing of evergreen posts i.e. for an indefinite period is possible with this program. It also offers the Auto-post feature along with other required scheduling functions. One can analyze and retrieve each post because it allows the content to be labeled.
Users can easily interact, connect, and communicate with followers from a single place with a dedicated inbox. If required it is also possible to view every other profile. Keyword searches and monitoring are not available at the moment in this tool.
A basic sharing feature along with content approval from the client is possible. The unique thing is it is possible to assign a message to clients. It has been used widely by users and can be explored and used if it fits your requirements.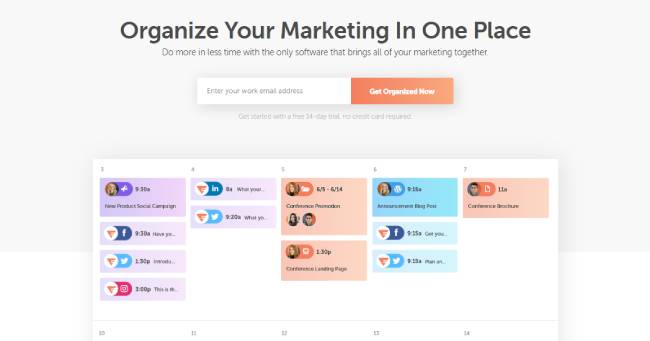 Amongst all social media management tools, this is popular for its social calendar feature. The positioning of the entire platform is such that it will promote you to organize and schedule all the posts. When it comes to content marketing the blog from CoSchedule is one of top-ranked in the world.
It has all the primary scheduling feature along with a function which is called ReQueue. This function intelligently schedules only the top posts from your socializing history.
Other features like monitoring, listening, or keyword search are not available here. Along with a separate dashboard for clients, it comes with custom reports, approval, and reusable task templates.
When it comes to the supported network apart from the regular and most common handles it also includes Tumblr. For more information regarding the platform visit its website and check for reviews and other features.

When you use this tool it will remind you of an automated bot. Through a series of automated chatbots, it will make recommendations about your socializing media. Publishing, scheduling, and other automation can be set up with it.
This software lacks auto-post, queues, and RSS integration but includes basic scheduling features. It is not a comprehensive tool for scheduling purpose but it is more inclined towards promoting socialized engagement.
It can automate multiple features for socialized engagement. It follows and un-follows the target audience for promoting growth and also automated the direct messages. If you intend to view followers of other people on Twitter and target them then it is also possible.
When it comes to client management support this program does not have anything to offer. Hence, if you are looking for something exclusive for your social handles then this is the tool for you.

The last in the list of impactful social media management tools is Edgar. This program specializes in uniquely scheduling content. Primarily it groups all your content into categories and adds respective time slots to each of them. Content is added to each of those slots and then it is published for you.
When it comes to publishing automation it is hyper-focused about it. It is also possible to publish evergreen posts with the auto-post feature. RSS integration can also be availed with Edgar.
When it comes to socialized engagement or monitoring this program does not have any features or functionalities. The same is applicable for the client management support as well.
Hence, if your needs are specifically addressed towards a tool that is dedicated to scheduling then this is your program. Pertaining to specific needs choose the best that can help you on your journey.