The web world is at its best with the latest Mockups for making world-class illustrations, presentations, and modules. This serves the primary purpose of gleaning feedbacks from the customers and clientele. So, here we have put forward a massive range of iPhone X Mockups along with other iPhone versions.
Check them out these freebies as soon as possible if you have been waiting for the engaging and educational presentations across all the latest iPhone version.
40 Best iPhone X, iPhone XS (MAX) Mockups for Free Download

You can download it free online for scenic white bevel screen orientation. It works best as an iPhone X Mockup even though Apple does not market white variations anymore.

Their team knows how to target the professional and stylish needs for iPhone X users. They have the perfect replica for the iPhone X. Even so more, their market value is quite astonishing with the number of freebies they release frequently.

If you are looking for a Mockup with realistic features, this brand is the deal for you. This brand also lists the promotional apps on the screens to be more professional and genuine.

This brand offers two specials designs with respect to the iPhone X Mockups. One of the models is suitable for broadcasting the flow and sketches. On the other hand, other Mockup can be used for vectors and different color infusions.

If you are aiming to demonstrate UI with vectors, iPhone X Mockup design is the best. It has minimalistic features and colors for starters to focus only on the UI aspect. Over it gives out a fancy and engaging look to the beholder.

This brand can be chosen for the beginners who are looking forward to experimenting with the UIs in association with sketches and other vector layouts. This can be downloaded in two formats: PDF as well as the PSD.

You should check the Mockups offered by this designer if you are expert in Sketch and other applications for illustrations and presentation flows. For now, black and white are the only color choices.

You will get a range of isometric modules and iPhone X Mockups from this guy. These Mockups help to present your mobile phone applications very revolutionizing and interesting at first glance.

While you are new to the iOS UI and you also want to make worthy and catchy presentations, this Mockup is a perfect deal.

For easy and fast customization throughout a mockup design for the latest iPhone X models, this should be your choice. It comes with the 8496 x 5880 screen resolution. Download it from Sketch or PSD formats online.

This iPhone X Mockup speaks in favor of the quality and first impression to be made on the users. If you have a prior Adobe Illustrator experience and you do not want to leave it behind, try this Mockup out for free

This team of graphic experts bring forward not only the Mockups but also the perspective view with engages the users in a few minutes of use. They promise standardized gadget quality as well. For now, it's available to download for free in PSD format.

These Mockups are meant to be edited as per feedbacks from the beta users or the clients. You can customize the presentations and images within this Mockup using Sketch as well.

They offer Mockups for iPhone X as well as iPhone 8. You can draw realistic designs using 3D designing and other professional designs in-built.

If you are planning to test the various angles for the latest iPhone models, then this Mockup is primarily suitable for your needs. It comes in silver and gray colors—exhibiting professionalism and elegance.

With initial white and light blue design, you can use and download these Mockups if you want to keep the sample simple and easy to customize with time. Otherwise, you can change the color also later on.

Pick up this Mockup if you want to experiment your skills white clay designs complementing with the changing background themes.

They offers two designs as iPhone X Mockups. One is a dark and sleek body, and the next one is white, looking like a contrast to the screen resolution.

They brings forward smart Mockups designs that are entirely customized according to your current needs. But you need to have prior experience of Adobe Photoshop as well for clear-cut experience.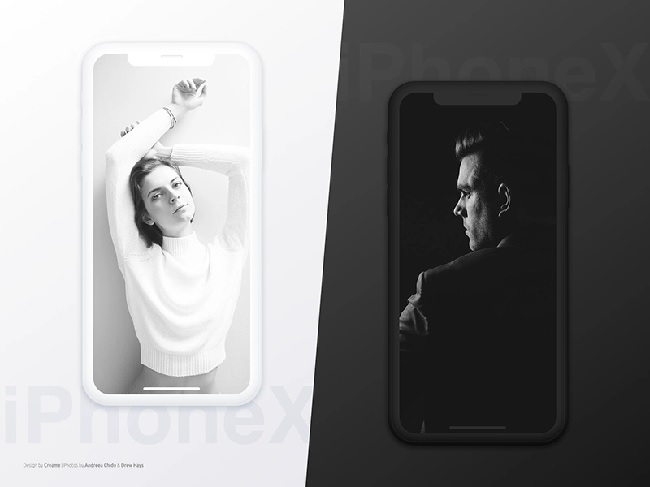 This artist has enabled two shades of Mockups. They are engagingly tossing between black and white appearances. The overall design is quite neat and clean. And there are no unnecessary images aligned.

The portfolio of this Mockup suits the who are beginning their journey with the iPhone X modules. Though this comes with a dark color. And there's no such mention of customization. Also, the screen shows the Cryptocurrency Apps and status.

it's a vector module wherein you can put forward your designs. If you are expert or slightly experienced in Adobe Photoshop Vectors, then pick this design in a heartbeat. Currently, you get this in PSD format if you wish to download it now.

While using the Photoshop CS4+ or Sketch 50+ for personal and professional uses, this module can help you gain feedbacks on time from the clients. The design comes in rich colors like gold, white clay, silver, whereas you can change it later on.

This design has been pretty famous around the globe for iPhone Xs and iPhone X Max. Moreover, it is layered while the design can be edited further.

These designs are available in the PSD style. Users can edit them beautifully to attract the clients in minutes. They also have PNG images as a background.

Pick this Mockup for both PSD and Sketch application formats. It is freely available on Behance for further editing and adding the vectors.

The standard designs are pretty abstract under this module. So, this Mockup is actually fir for the latest iPhone X series. The Adobe XD and Photoshop applications are enabled within this Mockup for further fine-tuning.

This designer offers vivid designs for iPhone X models, which can be layered and edited using the Adobe Photoshop and Sketch application.

If you are up for dark colors and design, this Mockup should be picked without giving much thought into it. The overall design is pretty sleek and not at all full of unwanted objects.

Download this freebie if you want the layered designs which you can change and edit as per your expertise. You can download this Mockup in PSD file. Also, it has enabled 100 per cent vectors for better-printed modules.

Layered vector Mockups are today's demand. And that is what this designer is offering to you with PSD and PNG formats. Currently, these Mockups have shadow, black, and white orientations.

Despite just the Mockup, you will get a free template if you download freebies by this designer. This module is highly supported for iPhone Xs smartphones.

They provide latest Mockups for iPhone X Max with the PSD format. You can add up your images and objects onto the design later on. The display is brimmed with rich and vibrant colors because of the high resolution.

This designer is pretty well-known in the market. Here in you get a styled animation with loops. This Mockup is best for professional uses to entertain young clients or users.
For the realistic version of iPhone X, this Mockup should be tested and tried. It has the applicability with the Sketch application. And it is usable with the 2436 x 112 screen resolution.

He offers SnowMock Mockups design, which is rad and selling hot in the industry. You will get it free online in PSD format.

This designer creates easy to use Mockups for beginners as well as for experts. These designs can be customized with no limitation as such.

For a varied list of designs, color combinations, and presentation skills, use this Mockup for free. You can apply Sketch and Photoshop editing as well.

This Mockup is gifted with grayscale, yet high-resolution properties. You can edit the vectors, and it already has objects that are quite engaging.

The designs are neat and orderly. You will get choices in black and white hues. Also, only the Sketch application is currently applicable to this Mockup.