CSS (Cascading Style Sheets), HTML (Hyper Text Markup Language) are two important web languages used by Web Developers in designing a website. CSS can control the fonts, texts, colours backgrounds, margins and layout of the website.
Building web pages with the help of CSS and HTML is difficult; some people hire Web Developers to design their websites.
But in exchange they need to pay a large amount of money to them. They are depended on the developers for maintaining the website and for the upgradation.
It is easy to use free web templates to build a website but the designs are very simple and lack professionalism.
Many websites are built without CSS or HTML but once the websites are built it is very difficult to redesign it or make any upgradation in it. So it is not convenient for you to use older web languages.
CSS and HTML gives the opportunity to change the layout anytime you want and create different looking pages without a lot of comprehensive codes.
If you do not know the web languages then it is difficult for you to learn them in a short time.
But do not worry there are some Free CSS and HTML Editors present in the market to help you with the coding so that you can easily design your desired website without hiring a web developer.
To use these editing softwares you do not need professional skill or experience.
Here is the list of free CSS and HTML editors that can help you in time:
Codepad is an online converter of codes, it is very easy to compile and run code in over 20 of the most popular web languages.
Notepad++ is largely used software by the developers. It is a text editor and a source code editor for Microsoft Windows.
Xyle Scope is one of the free CSS and HTML Editors; it works as an analysis tool to expose how a web page is put together. It helps you to explore HTML and CSS by simply clicking on an element of a web page and display the underlying code.
The User Interface is the addition of three primary areas:
Web View- displays the web page just like a browser.
HTML View- It displays the web page structure and the (X)HTML markup
CSS View- it displays the CSS rules and the Cascade.
Komodo Edit is the best code convertor used for CSS, HTML, PHP web languages. It is a code intelligence that is faster and smarter than other free CSS editor. It increases the productivity of a web developer by resolving issues faster and focus on the coding.
Highlight any word or code snippet and find out the relevant languages document from the Komodo. It makes the process of looking up documentation simpler and even works when you are offline.
You do not need to switch back and forth between your browser and the convertor. You do not need to leave your IDE to edit HTML and your preview will automatically reload whenever you edit the file.
Bluefish is a free CSS editor that ranks highest amongst the editors. It is compatible with many operating softwares and run on a number of protocols.
NetBeans can generate codes and templates. It is an editor that helps you with Java, CSS and HTML.
Rapid CSS editor is designed to make you more productive. You can create a modern HTML and CSS based website and user interfaces are fast and easy to use. It makes coding simple as it has many intelligent features.
Rapid CSS Editor is suitable for writing pieces of codes and compatible with SASS, PHP, JavaScript, XML.
The editor is very smart with inbuilt ability to check and autocomplete syntax and it also suggest alternative variants. You can use it directly on your server.
Some key features of Rapid CSS editor:
It loads faster than any other Free CSS and HTML Editors or IDE editor.
It has a large number of intelligent HTML and CSS codes, coding is up to date with modern standards.
It has code snippet library and code templates to help the user.
You can directly edit on your server and publish local development copy updates with a single click.
You can use quick search, regular expressions and detailed result in this software.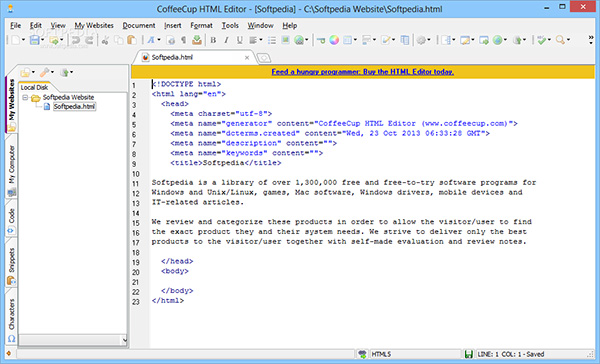 CoffeeCup is a free HTML, JavaScript editor with lots of features but it comes with an additional cost. It design visually with the Boostrap, Foundation and Materializes frameworks.
CoffeeCup is a highly tested software that offers many advantages to the developers It allows to create cool interactive components such as dropups, navigation menus, galleries and more without extra codes.
Although BlueGriffon has a lot of paid versions but you can use the free version for your editing task. It is a very good editing software for the beginners.
This also has tons of feature and customization for your web development. It has access to all the advanced web development features without being inaccessible.
But It also has many features that the beginners do not need.
WYSIWYG HTML Editors
WYSIWYM (what you see is what you mean) is a software that helps you to design your website using HTML language, you do not require professional HTML knowledge to create your website. It is easy for any inexperienced user to start designing the web page.
These are some CSS and HTML editors to help you to craft a effective web page that will attract visitors towards your page.
Without acquiring professional skills you can create desired website and it is free of cost. At first you may find the codes confusing but with the usage of these editors it will feel like breeze.
You can build, customized and upgrade your site without other's help. Some softwares provide you pre- built templates and codes to modify your site according to your requirements.
If you are a beginner then you can find a cheap web host that includes free domain. It will help you to practice with a live website and might be a good start for you.