The blogging expedition has evolved with technology. There are thousands of individuals who are struggling to cope up with it. This article includes the best and essential blogging tools for you to use.
There are hundreds of options available on the internet which makes the selection process relatively tough. But all of them are not important for you to use. Sometimes using non-essential tools can cost your time that can be utilized in other constructive tasks.
Hence, this read will help you in exploring the must-have tools for your blogging site. Using this tool will make you more confident with your content and also help in managing time.

For blogging, WordPress is the most recommended platform to start with. It is reliable, free, and less promotional. It is possible that you might take a little more time compared to other platforms to get used to it. But, believe us it offers tons of features that you will be glad to have. It becomes easy to use gradually and is adaptable for anything that you intend for your blog.
It is highly recommended to use it from day one of your blogging journey. If you have already selected it then you have just made the right choice for life.

Preparing articles, taking notes, sharing, and reviews are all essential parameters of blogging. Google Docs is the best platform to scribble, draft, and finalize all your ideas and projects.
There are several other similar applications but this tool is an amazing club of functionality and simplicity. It offers spreadsheets also to ensure that you do not lack anything in the documentation. Above all, it gives you the freedom to access your data from any device and system in the world, thanks to the cloud storage. If required it is also possible to upload offline files from MS Word.

This is one of its kind products from YCombinator which happens to be one of the essential blogging tools. It gives you the freedom to backup and stores all important files including logo, notes, plugins, themes, contracts, etc. The files can be set for automatic synchronization and are accessible from any device. If offers free 2GB storage and the rest can be easily earned with referrals.

This is a widely used and powerful keyword research tool. When it comes to blogging keywords are most essential to get the best SERP rankings. This tool helps you with suggestions and targeting the best keywords. In addition to that, it also offers a list of website page rank with SERP analysis.

A direct marketing technique like email marketing is required to connect with the audience. Effective email marketing tools can help bloggers gain more traffic and attention from the audience.
For the execution of an email marketing campaign, this is the best tool. You can enhance your brand value by creating customized messages and emails that suit your promotion.

Blogging is highly dependent on the kind of ideas that you get during any random moment in a day. If that idea flows out then it is tough to recover. Evernote helps you resolve this problem. This application helps you in capturing everything including voice notes, images, texts, and Webpage. It can be accessed from your cell phone, iPad, and desktop.
It comes with a simple login procedure that helps you in accessing data from any random device in the world. It also offers an in-built search to look out for specific information from all the stored data. This helps in saving time and boosts creativity.

Blogs have a default grey man picture whenever you leave a comment. Have you worked on improvising the same? If no, then now is the right time as it helps in making you stand out. Gravatar is next on the list of essential blogging tools.
It stands for Globally Recognized Avatar where you can create an amazing and interesting avatar for your blog. It only takes a few minutes and contributes to your online branding journey. Many new bloggers overlook such small things, but it is a group of small changes that ensure big results.

One of the leading names in social medial scheduling tools is Social Champ. It is also popular as social media management and automation software because of its distinguishing features. Users can manage and handle all operations related to social handles with this program. For instance, it can manage performance analysis, post scheduling, and content management. It is a unified solution to address multiple requirements of a user.
It is one of the essential blogging tools because users can manage, direct, and facilitate everything related to social media with it. What else one needs when a program offers to schedule content and at the same time analyze the stats? It helps you gain enough time and resources to focus on the rest of the essential tasks.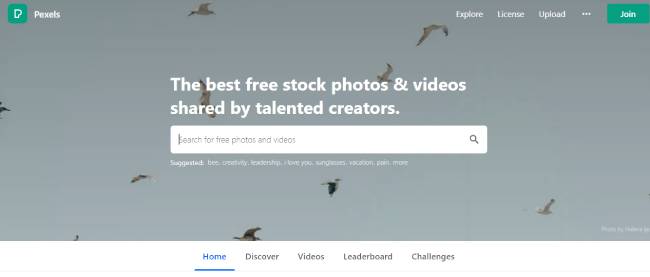 Pexels is amongst the amazing blogging tools for beginners. Images are essential to improvise the value of a blog. Pexels helps designers and bloggers to find relevant and great photos that can be used anywhere for free. This helps in giving a unique structure to the blogs. It also makes the task of finding and adding images easier than ever.
All the images available on its platform are licensed under the Pexels license. Therefore, it enables you to use images for commercial and personal use without watermark.

Bitly is last in the list of essential blogging tools. But, this is one of the most used tools by the majority of the established bloggers. All the favorite links from around the web can be managed, shared, shortened, and analyzed with it.
At the top right corner of the page, you will find an option of 'Create Bitlink' after sign-up. This is its main feature which will shorten the link. After that, you can conveniently share it across different platforms for the promotion. It is also possible to easily track the total number of clicks along with their sources.
Conclusion
The above-tools will contribute to your entire journey of blogging. It will help you in becoming a well-seasoned blogger with all the right technical help.