Every good thing comes with creativity and originality, and if you want to be a good graphic designer, then you have to face a lot of challenges. But it is important to know that design is not the only way, that will guarantee success since plenty of other crucial factors are there, which helps in providing success and supports the business to grow.
Most of the free and capitalist system mostly depends on advertising, which is the first method of promoting contents. It is necessary to run proper campaigns that help to connect and reflect the creativity level, which is expected from the content.
As a graphic designer even with a limited budget you can get a theme, make a website, and dominate the niche. You can work with a basic website, but a customized page is always a good idea to get WordPress themes.
These themes are selectively picked, and every developer tries to include different plugins as well as features. Being a talented designer, these themes will provide you with endless features utilizing with which you can shape your page and provide every detail that matches with every specification.
Listed below are some of the popular free WordPress themes for graphic designers, that you can use for your website.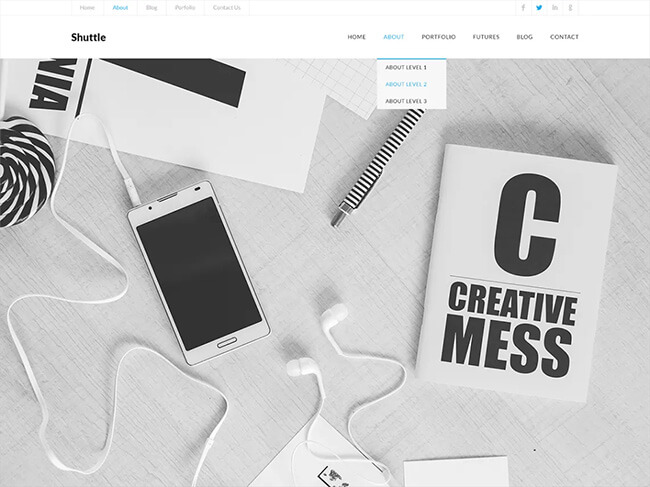 It is quite uniquely pliable, very powerful, modern, and responsive best free WordPress themes for graphic designers. Shuttle Creative is considered one of the most competent companions for the designers who want to make visually stunning websites, which is best for various website archetypes and usages across different industries and fields.
To handle Jevelin you don't have to know about any kind of coding knowledge to make websites of supreme quality.
One of the biggest advantages of Shuttle Creative, you can customize so that you can get all the specifications with the help of a complete visual process and admin panel, which lets to customize the header footer styles as well as layout.

Just of the versatility and completely customizable design, this considered one of the best free WordPress themes for graphic designers.
The page canvas helps in creating an online portfolio in minutes, but you can always go the extra mile, and make a signature style for making own website. The stunning feature of drag and drop site editor of the pages can be easily made visual without the need of getting the source code.
The features which Creative Agency provides are ready-to-use layouts, retina compatibility, better security, etc.

Due to the wide resource of different features as well as functions, Fullscreen Agency can be easily used as the best free WordPress themes for graphic designers. It has the advantage of ready to use demo contents, which helps you in getting a start for something innovative and fresh.
It doesn't matter if you are an established designer or just a beginner, a website is a must-have for both. You don't have to be tech-savvy, especially if you are working with Webify as you can also structure an online presence just like the experts and professionals do.

This is one of the most stylish and at the time a responsive free WordPress theme for designers as it provides some extraordinary themes for making unique and innovative websites.
Corporate X is just the right choice for all the graphic designers since no skills are required to handle it. All you have to do is select the desired website, and within a few minutes, you can easily fine-tune it. The drag and drop facility along with the benefit of fine-tuning can be done quickly and fast coding along with the SEO enhancement make Adios quite competitive.

It is one of the resourceful and exceptionally responsive free WordPress themes for graphic designers. It is made as a general-purpose platform, that can provide all the requirements of the various websites across different industries with unmatched speed and ease.
If you want to get this, then corporatecorner has a premium Visual Composer, which provides the benefit of drag and drop for page building, which helps in easing the construction process for webmasters who have a different background so that you can get good results.

This is one of the responsive free WordPress themes for graphic designers, and also, a WooCommerce website theme. It is one of the resourceful platforms, which is necessary for building innovative websites easily.
With the help of Unicon Lite, you can easily make stylish pages without doing work. It is just the right theme for showing the content to the audience in clever and proper ways. Also, the innovative portfolio grid can impress your visitors with the help of your accomplishments.

The creative minds make the most out of the Hexagon which is one of the most popular themes of WordPress for graphic designers. It has multiple creative and appealing demos, that you can surely use for making webspace. Using this theme will help you in thrusting your work to a new and impressive way altogether.
Also, you can make an online store where you can sell different artworks as well as other items, which will help your career to reach new heights of success.

If you are searching for some of the quality free WordPress themes for graphic designers, then undoubtedly Marketingly is one of the effortless and customizable tools, that will help your brand to become popular among people. Using this you will be able to reach out to the clients and make your work visible globally.
This will make your brand grow exponentially, which is beneficial.

This innovative free WordPress themes for designers help in making your content more vibrant as well as pulsating in front of the people. It comes with retina ready graphics, which helps in popping the punchy colors out of the screen. Also, it comes with cutting edge CSS animations, which helps to enhance the navigational experience of the users.

If you want a sophisticated, yet modern and easy-to-use free WordPress theme for the graphic designers, then BizCare is undoubtedly one of the best choices. It helps to provide all the necessary things, that you are going to need for making your website. Using this you can take your services to a new style so that your business can become popular.
Hence, these are some of the popular and creative free WordPress themes, that the graphic designers can use for making websites.